New uClan product Ustym 4K S2 OTT received the latest Denys_OS software, developed on the basis of and taking into account the experience of the world-famous U2C / uClan Denys H.265 model! Because of its success, Denys H.265 was repeatedly cloned by many famous European brands (Octagon, Xsarius, etc.) Now all the best that was in Denys H.265 you get at an even higher speed and in 4K resolution!
H.265, 1 GB RAM / 4 GB Flash, Stalker, IPTV, Multistream:
With the new uClan Ustym 4K S2 OTT, you get the latest box with the Linux operating system, a quad-core 64-bit processor and ultra 4K resolution.
The main thing: now with support for a WEB browser!
Set-top-box is characterized by powerful hardware and a wide range of entertainment options. It supports all the common functions that a modern IPTV box should have.
Hardware and technology

inside

of the uClan Ustym 4K S2 OTT:
Hardware contains the most modern equipment with which you can satisfy almost all your requirements for DVB or IPTV.
Installed a 64-bit Hisilicon processor, also a multi-core graphics processor. The main memory of 1 gigabyte and flash memory with a capacity of 4 gigabytes eMMC take up additional space on the board. This equipment provides not only smooth playback of 4K content, but also phenomenally fast download times and fast navigation through multilingual menus.
4K and HDR10 resolution:
With the Ustym 4K S2 OTT receiver, you can enjoy content with incredible 4K resolution at 60 frames per second and a resolution of 3840 x 2160 pixels. Ustym 4K S2 OTT decodes content in the HEVC / H.265 standard, which, among other things, helps preserve data channel bandwidth. Ustym 4K S2 OTT supports H.264 or AVS and VP9 standards, as well as almost all video, audio and image formats.
Entertaining and other boxing features:
Ustym 4K S2 OTT has an extremely popular and easy-to-use Linux operating system from the factory. This gives you the opportunity to constantly expand the offer of entertainment. There are many free apps like YouTube, Stalker, Cinemas, WEB OTT, a media library and many popular browser media players. There are practically no restrictions on the pleasure of entertainment!
A variety of interfaces and connections

:
uClan provided Ustym 4K S2 OTT with the most common interfaces and thus provided high box connectivity.
There is one USB 2.0 port and one USB 3.0 port. On the back of the box you will also find an HDMI 2.0a connection, an S / PDIF interface, an Ethernet LAN connection and a DVB-S2 satellite tuner. A built-in card reader and connection to the included external IR receiver are also included.
Main characteristics:
- Hisilicon Hi3798MV200 Huawei
- Quad-core 64 bit (4x 1.6 GHz) 15000 DMIPS
- Multi-core high-performance graphics processor
- 4GB eMMC flash memory
- RAM 1 GB DDR3
- Phenomenally short boot time
- LAN Ethernet (100 Mbps)
- 4-digit 7-segment display
- Card Reader + BlindScan Hardware (Blind Search)
- DVB-S2 tuner + multithreaded support
- HDMI 2.0a CEC and USB 3.0
- Infrared receiver for hidden installation
- Supports HDMI CEC
- Support for E2 settings (Enigma2)
- Learning remote control with virtual mouse function
Features and functions:
- Denys_OS software (the base operating system Linux OS)
- Unique high-resolution OSD UI user interface
- Resolution: 4K / UHD (3840 x 2160)
- Supports HDR10 and HLG
- Stalker and browser support
- WebTV & VOD Video Club
- OTT Player, IPTV m3u, m3u8, m3u8 +, m3u startup, operator mode and more
- Mouse function support
- IPTV user portal and logo support
- Internet radio and YouTube
- 1 USB 2.0 port and 1 USB 3.0 port
- User friendly screen interface
- WebIF & FTP access
- Card reader
- Recording and TimeShift
- Network 10 / 100Mbit LAN
- Supports WiFi (WLAN) + 3GB via USB ports
- DLNA Player (DMS, DMR) and built-in media player
- Remote control and web browser (WebIF)
- Support for Unicable & FastScan
- DiSEqC 1.0, 1.1, 1.2 and USALS support
- EPG - Electronic Program Guide
- 4 programmable buttons on the remote control
- Support for subtitles and teletext (teletext)
- 0.5 watts standby
- Dimensions (LxDxH) 142 mm x 93 mm x 24 mm
Front of the device (polished):
- 4-digit white 7-segment display
- IR sensor (infrared receiver)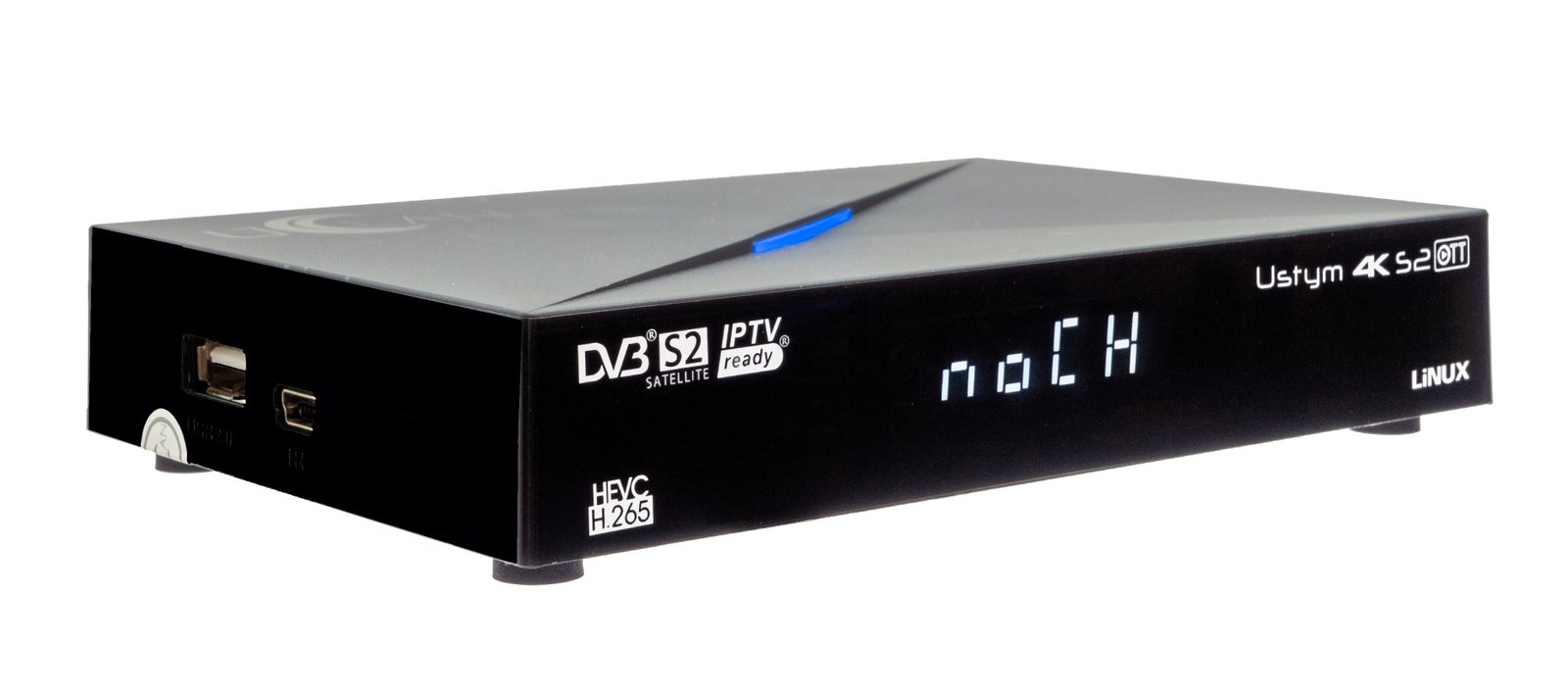 Top of the device (matte):
- LED display (red / blue)
Back panel:
- DVB-S2 tuner LNB input
- USB 3.0 port
- Digital audio jack (S / PDIF)
- AV - audio-video connector - RCA connector
- HDMI 2.0a output
- Network 10 / 100Mbps connection
- DC-12V power supply
Side panels:
- CA card reader
- USB 2.0 port
- LED / IR (external IR receiver)
Inside giftbox:
- uClan Ustym 4K S2 OTT receiver
- Learning remote control
- power adapter
- HDMI cable
- IR infrared receiver
- Instruction manual (English, Polish, Russian, Ukrainian)
- 2 batteries
Youtube videos:
CPU

Hisilicon Hi3798MV200

Video Output Resolution

4K Ultra HD

LAN Ethernet RJ45

100Mb/s

WiFi (built-in)

USB-WiFi support

Antenna input

One DVBS/S2 input (satellite)

USB ports

1x USB2.0 port + 1x USB3.0 port

Display

With LED display

CA cardreader

With CA cardreader